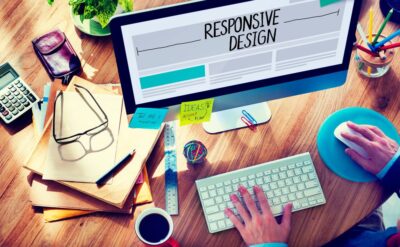 Big as well as small businesses leverage websites to generate leads and boost profitability. Business owners across industries are investing in web designing to get unique and informative websites created for their businesses. This has led to an increase in the number of Web designing & development agencies. The competition is high and the only way to survive in this business is by designing engaging and attractive websites that generate organic leads. If your websites  aren't doing well then chances are that you are missing out on some important aspects that help create an excellent website.
To help you with the task, we have shed light on some of the essential SEO and web design techniques that all you designers must know. The points shared here will help you create terrific websites akin to those created by professionals at reputed web designing companies.
Unique yet Relevant Domain Name
To begin with, select a unique yet relevant domain name for the website. It should be true to the business it is representing and must be simple at the same time. The name should be easy to remember. While choosing a domain name one must particularly pay attention to its spellings. The website names that are simple to read and spell are likely to generate better traffic as they are easy to remember and punch. .
Keyword Rich Informative Content
Search engines love websites that provide relevant and informative content. The content uploaded on your website must also include appropriate keywords. This is one aspect that impacts the search engine rankings to a vast extent. The title, meta description and captions must be optimized with correct keywords. However, it should not have too many keywords. Stuffing keywords unnecessarily results in dipping the ranking.
Page Load Speed
No matter how attractive or informative your website is, if it does not load quickly then it wouldn't be able to retain users. With so many options around, the users are likely to quit the page and move on to the next option. Slow websites do not even rank high in search engine results even if they have an attractive interface and keyword rich content. There are many factors that slow down the page load speed. Find out what the issue is and work on it before it is too late. Some of the ways in which you can improve page load speed is by reducing the number of pop ups, compressing high quality images and getting rid of auto-pay content.
Easy Navigation and Backlinks
Your website should be easy to navigate. This will help the users navigate swiftly from one page to another and reach the information they are looking for with ease. It should also have relevant backlinks to provide information about all the aspects of the subject at hand. Not only do these practices enhance the browsing experience but also bring the websites in the good books of search engines. Popular web designing and digital marketing agencies pay close attention to this point.
However, make sure you do not purchase links and spam your content with it. Search engines have grown smarter. Thus, such a move can backfire and damage your reputation.
Layout and Graphics
Whether you are designing a website or a web application it is important to choose a layout which is pleasant to look at. It should neither be too simple nor too elaborate. The graphics used in the website should be attractive and relevant. Besides, they must be placed strategically to add value to the content in addition to drawing user attention.
There are many websites that offer free layouts and images. You can pick attractive graphics and check out layout templates on such websites. Undergoing a short course in graphic designing can also help in this direction.
Reputed Hosting Provider
The hosting service you opt for also impacts your website's performance. If you have done everything right including choosing the correct domain name, selecting a beautiful layout and writing informative content but are still unable to generate organic traffic then it is time to assess this aspect. A poor hosting provider can ruin everything for you. In order to offer an excellent browsing experience to your users you must choose a reputed hosting provider.
Responsive Website
Designing a responsive website has become a necessity these days. A responsive design offers the ease to access websites properly on any given device including mobile, desktop, laptop and tab. The growing number of mobile users has made it necessary for businesses to choose a responsive design. This ensures a wider reach and better visibility.
Social Shares
Social media has become one of the most effective ways to reach your prospects. Digital marketing service providers around the world are leveraging social media platforms to enhance their visibility and connect with their target audience. This medium also helps drive traffic to the websites. You should  share your website and blog links on your social media handles and encourage the audience to follow them. The best way to do so is by posting interesting posts. The content you post on your social media should be engaging enough to prompt the readers to learn more.
Stay Updated with the Latest Trends
Digital marketing trends keep changing and in order to keep up with the same web designers and SEO experts keep coming up with newer and more effective techniques. It is essential to stay updated with all the latest trends and techniques to hone your skills and outperform your competitors. We recommend designers to undergo advanced web designing and SEO courses and attend workshops covering the latest in the industry.
Creating interesting and informative content, inculcating appropriate keywords, leveraging social media to increase visibility, choosing appropriate layout and graphics, opting for mobile friendly responsive website design, ensuring easy navigation, including relevant backlinks, choosing the right hosting service and ensuring excellent page load speed are among some of the techniques that designers must follow. They must work on all these aspects at the time of designing a website to ensure it performs well. Working in close association with experienced content creators and SEO experts can help in this regard.