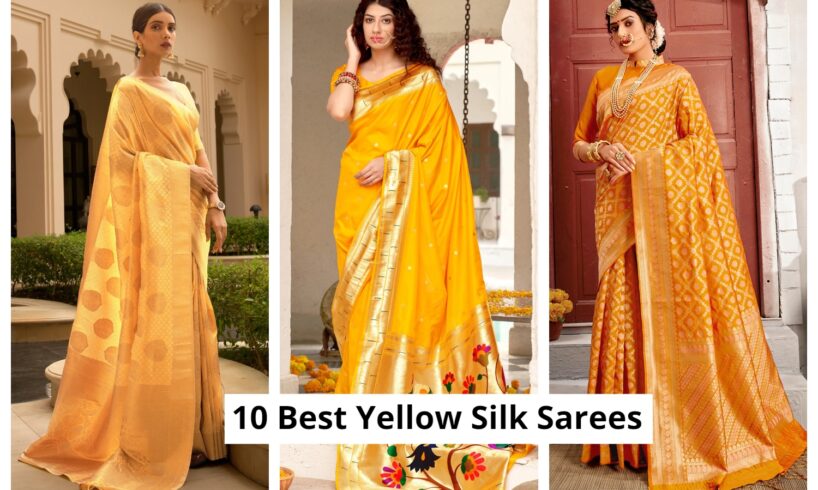 The aura surrounding the sun-yellow colour is bright, happy, and dynamic! This breezy colour is now one of the most popular and adored choices for festive or wedding attire. Yellow is an inextricable component of Indian culture, aside from its warm and cheerful connotations. The luxury is demonstrated by the turmeric colour, the foundation tone of precious metal gold-yellow, and the Silk saree combo. 
Wearing yellow attire is required for a number of religious and wedding customs, such as the Haldi ceremony. Because theme weddings are so fashionable these days, even bridesmaids and guests follow the same color scheme, making this holy ceremony look like a flood of brightness! 
Today, I will talk about the most gorgeous yellow silk saree designs. These 10 different types of yellow silk saree can be your next pick for sure.  
Yellow Banarasi Silk saree

 
 Sarees from Banarasi are the pinnacle of Indian traditional attire. It is also many Indian women's first love all around the country. Women choose this type of saree because of its elegance and luxury. Moreover, Yellow colored Banarasi saree suits all age groups. 
Tussar silk saree in yellow

 
The traditional aesthetic of a yellow Tussar silk saree is incredibly exquisite. Sarees are extremely easy to wear in hot and humid weather because of their permeable and slim qualities. There are a plethora of exclusive designs in yellow tussar silk saree that is available on the market for parties, traditional functions, and cocktail parties, all of which improve women's self-assurance. The saree is more convenient to wear and carry. 
Kanjivaram silk saree in yellow color

 
Kanjivaram is called the queen of the silk sarees and the yellow colored Kajnivaram silk saree is considered as the auspicious attire.  In the wedding ceremony, Opulent women like to opt for yellow kanjivaram silk saree.  
Patola  – The best yellow silk saree 

 
Patola Silk Sarees are a unique type of handloom silk saree that has become an important element of your ethnic wardrobe. Moreover, yellow patola saree having maroon figure motives define the Indian tradition. 
Yellow Tissue silk saree

 
Tissue sarees are one of the most delicate and feminine saree styles available. Nowadays, Tissue silk sarees are in great demand as they look so stylish. In addition, yellow tissue silk saree is the most colorful of all the hues and is ideal for wedding rituals. 
Munga silk saree yellow

 
Munga silk saree has a fine glossy texture and it's very well known for its durability. It was formerly only available to royalty. In addition, the yellow color appears elegant and lovely with the opposing blouse. 
Baluchari silk saree in yellow

 
Baluchari sarees are known for their creative motifs that reflect mythological stories similar to those found on the temples of Bishnupur and Bankura in West Bengal. Furthermore, Baluchari sarees are known for their intricate borders and beautiful pallus. The ornamental borders encircle Kalka motifs within it. Yellow baluchari with a crimson or blue border also has an ethereal appearance. 
Yellow Bhagalpuri silk saree

 
Bhagalpuri sarees are prized for their rich texture, natural deep gold colour, copperish hue, and excellent texture. Yellow Bhagalpuri sarees come in a variety of colours and styles to complement the appearance and beauty of ladies of all ages. 
Chanderi  – Lightweight yellow silk saree

 
Yellow Chanderi sarees have become one of the most popular sarees due to the traditional fabric's lightness, making it incredibly wearable. These sarees have a sumptuous feel and are quite comfortable, making them suitable for both summer and winter. Moreover, the chanderi silk saree is cool and comfortable in the summer. 
Paithani silk saree in yellow

 
The saree is known for its unique weaving process, gorgeous silver and gold thread artwork, and exquisite designs, which all combine to create a piece of unrivalled elegance and grace. A yellow Paithani saree in your trousseau is a must if you are a sophisticated shopper who wants to embrace Indian culture and glory in a piece of clothing. 
These are the trendy yellow silk saree designs that will give you not only an elegant but also a subtle appearance