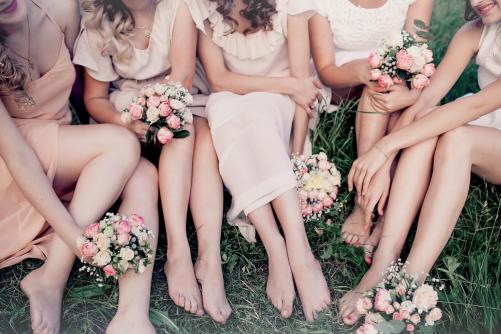 Decoding wedding attire can sometimes feel more complex than solving one of those puzzles in an escape room. When love is in the air, and we've entered wedding season, you may find yourself asking, "What should I wear to the wedding?" Whether you're the blushing bride-to-be, the maid of honor, or an esteemed guest, we've put together the ultimate guide on what to wear to a wedding. It's time to put on your cutest clothes and dive into the romantic and elegant world of dressing up for a wedding.
1. What Should a Bride Wear? — As a bride, you might be fretting about what kind of shoes you want to wear. Do you want to wear classic white heels, or would you prefer something flat and comfortable? It totally depends on your style and the style of your dress, so take a look at different cute women's shoes to see what kind of shoe goes best with your dress. It's your special day, so, ultimately, you'll want to wear a dress or whatever kind of outfit suits you and your wedding theme. It can be a white top and tailored trousers or whatever color or pattern you want! The possibilities are endless, and you'll just need to decide if you want something traditional or more modern.
2. What Should a Bridesmaid Wear? — If you're the bride, you'll need to help your bridesmaids decide what to wear. Picking one dress for all bridesmaids can be quite restrictive, especially if you're having a bridal party across a variety of tastes in style and body types. There are plenty of different options for what kind of dress a bridesmaid can wear. When looking for some inspiration for your bridesmaid, or if the bride has just assigned the bridesmaids a color or pattern motif and you'll be picking the actual dress to wear, check out different types of dresses to find a dress that speaks to you. If you're the bridesmaid, you'll need to defer to the wishes of the bride on her special day.
3. Bridesmaids Should Coordinate with the Wedding Party — As a bridesmaid, you and the other bridesmaids should coordinate your attire for a cohesive look. Maintaining a unifying factor like fabric or color can help create a visually appealing bridal party ensemble. For example, it can be all silk shift dresses in different pastel colors or all-blue midi dresses.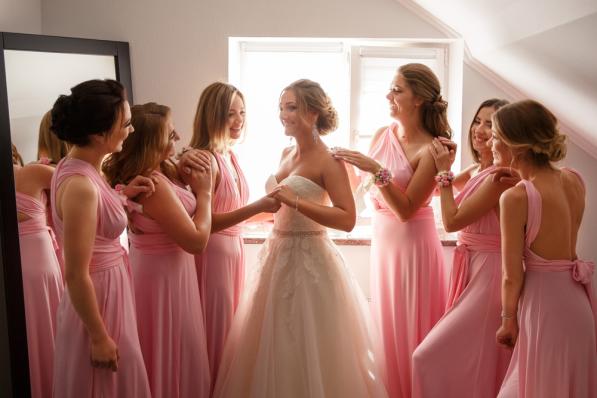 Source: Wedding and lifestyle/Shutterstock.com
4. What Should a Wedding Guest Wear? — While we often think about wearing a dress to a wedding, you have a little more wiggle room as a wedding guest. This is especially true if the wedding isn't formal and it's more casual or laid-back. You can wear cute blouses with a midi skirt or maxi skirt and dress it up with accessories and heels for the wedding. Wearing semi-formal attire like cocktail dresses is best for evening events. Daytime weddings allow for lighter fabrics and more relaxed attire options.
5. What NOT to Wear as a Wedding Guest — No one wants to make an unintentional wedding faux pas. According to Martha Stweart, there are several things that wedding guests should NEVER wear to a wedding. That includes anything loud and flashy that can distract from the wedding couple, a white dress (unless you're the bride!), and your everyday attire. Unless the wedding dress code dictates that the wedding is super casual, there's no reason you'll be wearing sneakers or flip-flops at the wedding.
6. Reflect Your Personal Style — Whether you're the bride or bridesmaid, there is plenty of opportunity to show off your personal style. As the bride, this is your day to let your personality and unique style shine through from a whimsical bohemian charm to an understated modern minimalism. If you're the bridesmaid and your style is more traditional and elegant while the bride is much more modern, there's room for compromise. Ensure you speak with the couple first to not overstep any boundaries. There may be room for compromise on details such as jewelry, the way you do your hair, your shoes, and so forth.
The truth of the matter is that dressing up for a wedding can be as diverse as the wedding itself and the couple themselves. If the couple is bold and full of life, you may find that their avant-garde wedding requires clothing that's more modern and trendy. There are plenty of cute clothes for women that are trendy to fit that style and their personalities.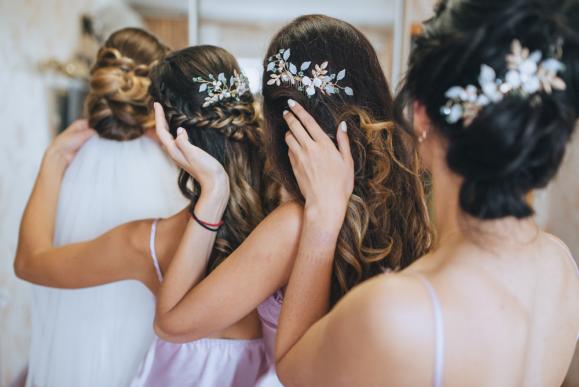 Source: Shchus/Shutterstock.com
If you're a bride trying to figure out if you want something timeless and classic or a more modern alternative to the classic white wedding gown, there are plenty of options for you that strike a balance between the traditional white wedding dress and the more contemporary styles. Ultimately, you'll want to wear what makes you feel and look your best on this special day!
Also Read: Everything You Need To Know About Ladies Handbags